Yen Tu Quang Ninh
Yen Tu Festival in Quang Ninh is one of the biggest festivals in Northern Vietnam. Every time New Year comes, spring comes, this place attracts thousands of tourists from all over the world to visit and admire.
Every year, every spring, tourists from all over the world enthusiastically invite each other to worship the sacred land of Yen Tu. A large number of tourists choose to travel to Quang Ninh on the occasion of Yen Tu festival to enjoy the beauty of the peaceful fairy land and worship the Buddha, pray for good luck, and wish for a peaceful and prosperous new year.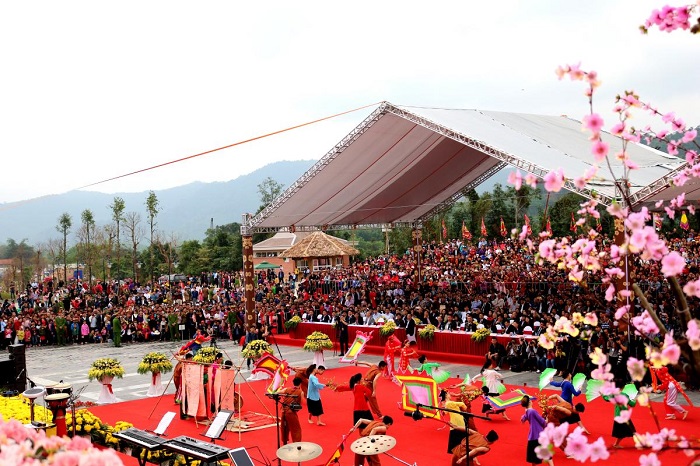 1. Introduction to Yen Tu Quang Ninh
When is Yen Tu Pagoda Festival on? From January 10 to the end of March of the lunar calendar every year Yen Tu Quang Ninh
Where does Yen Tu festival take place? At Yen Tu mountain – Thuong Yen Cong commune, Uong Bi, Quang Ninh
Contact us:
Car For Rent Hanoi VietNam
https://zalo.me/0986244358
If you want to travel to Yen Tu, you definitely cannot miss the early spring festival here. Yen Tu Spring Festival is one of the biggest festivals in Quang Ninh, attracting a large number of tourists.
Who does Yen Tu festival worship? The festival is held to honor the merits of Buddha Emperor Tran Nhan Tong – the founder of Truc Lam Zen Sect. Yen Tu Quang Ninh
The festival begins with solemn ceremonies held at the foot of Yen Tu mountain. Then there is a pilgrimage to the temple towering on the top of the mountain – Dong Pagoda. Participating in the festival, you will have countless interesting experiences on the journey to find the land of Buddha: Yen Tu Quang Ninh
Visiting Dong Pagoda located at an altitude of 1068m above sea level, giving visitors the feeling of walking on clouds;
Admire the 3-storey stone tower built in 1758;
Visit Giai Oan stream to hear stories about the loyalty of hundreds of palace maidens;
Scenery of Thap To, Hoa Yen pagoda, Bao Sai pagoda, Mot Mai pagoda,…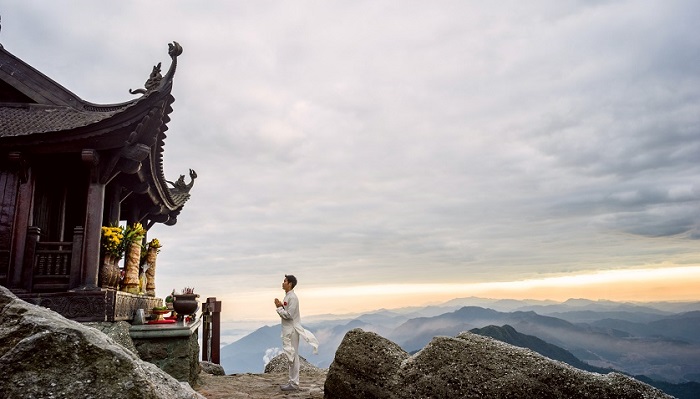 2. Where did Yen Tu festival come from? What does mean?
The ancient dynasties of kings all classified Yen Tu as the "famous mountain" of our country. No one knows when Yen Tu festival in Quang Ninh was formed. Only know that, from the 17th to 18th centuries, on the top of Yen Tu, there was a pagoda (Thien Truc Tu) with a copper tile roof, in the temple there are 2 bronze statues, next to the pagoda is the Fairy chess board with the same word Buddha block. large carved into the cliff,… Yen Tu Quang Ninh
Linh Son Yen Tu is not only a place with magnificent scenery but also a sacred place that converges many spiritual values ​​of ancestors. The meaning of Yen Tu – Quang Ninh festival is to honor the historical, cultural and civilized values ​​​​of the Ly, Tran dynasties, … handed down to future generations. Therefore, every spring, people are eager to visit this tourist destination in Quang Ninh in the pilgrimage to the Buddha realm to forget about the troubles of the world.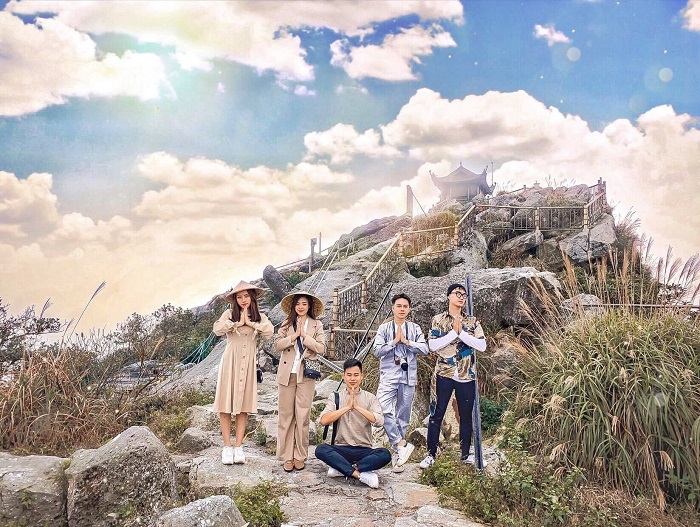 3. A few notes to remember when participating in Yen Tu pagoda festival
To have a complete spring trip to Yen Tu flower festival, you should pay attention to a few things: Yen Tu Quang Ninh
Choose discreet, comfortable clothes and sports shoes to conquer Yen Tu peak (Photo: collectibles) Yen Tu Quang Ninh
Choose modest and polite clothes because Yen Tu is a sacred Buddha land. You should also not choose tight clothes or jeans because it will be difficult to move;
Visitors need to climb more than 6km of steep stone steps, so it is necessary to prioritize wearing sports shoes to move more easily;
Prepare drinking water and walking sticks to be strong enough to overcome the journey up to Dong Pagoda;
Bring your camera and phone to capture beautiful moments on the top of the mountain; Yen Tu Quang Ninh
If you are afraid of health problems and can't climb the stairs, you can choose to take the cable car to admire the scenic Yen Tu from above.
Quang Ninh is not only famous for Yen Tu Buddha land but also known for many other scenic spots such as Bai Chay, Ha Long Bay, Co To Quang Ninh, Mong Cai Tra Co, Thien Cung Cave, Trong Mai Island, Hon Gai, etc. Reu Island, … To unleash the discovery of the above-mentioned attractive destinations, visitors should choose for themselves a place to stay with a beautiful location and 5-star service such as Vinpearl Resort & Spa Ha Long. Yen Tu Quang Ninh
Vinpearl Resort & Spa Ha Long is a resort with the architecture of a magnificent castle. The resort owns private beaches, an outdoor swimming pool up to 1,200m2 and a system of spacious rooms, exquisitely designed with large balconies,… In particular, guests staying here also have the opportunity to relax. Enjoy a variety of cuisines and have the ultimate relaxing experience at a high-class spa,…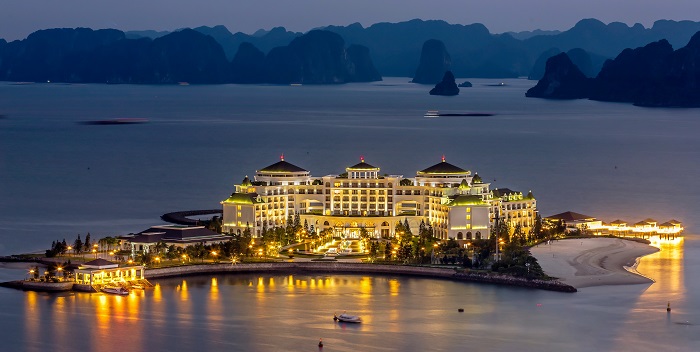 >>> Hurry up and grab the opportunity to book Vinpearl Resort & Spa Ha Long at a very favorable price!
Yen Tu Festival in Quang Ninh preserves great spiritual values ​​for every Vietnamese person. This spring, you should visit Yen Tu pagoda festival to have a few days to separate yourself from the mundane world and make a pilgrimage to the sacred Buddha land! Yen Tu Quang Ninh