Tam Coc (Tam Cốc) is a tourist attraction located in Ninh Hai commune, Hoa Lu district, about 100 km from Hanoi city center. Tam Coc means "three caves" in Vietnamese, referring to the three natural caves that are formed by the Ngo Dong river flowing through the limestone mountains.
Tam Coc is part of the Trang An Landscape Complex, a UNESCO World Heritage Site that includes natural and cultural attractions. Tam Coc is also known as "Halong Bay on land", because of its similar scenery of karst formations and waterways. Tam Coc is a popular destination for visitors who want to enjoy the natural beauty and learn about the history and culture of the area. In this blog post, we will show you how to rent a car to Tam Coc and explore the best things to do and see in Tam Coc.
Why Rent a Car to Tam Coc?
Renting a car to Tam Coc is one of the best ways to travel from Hanoi to Tam Coc and enjoy your visit at your own pace and convenience. By renting a car, you can: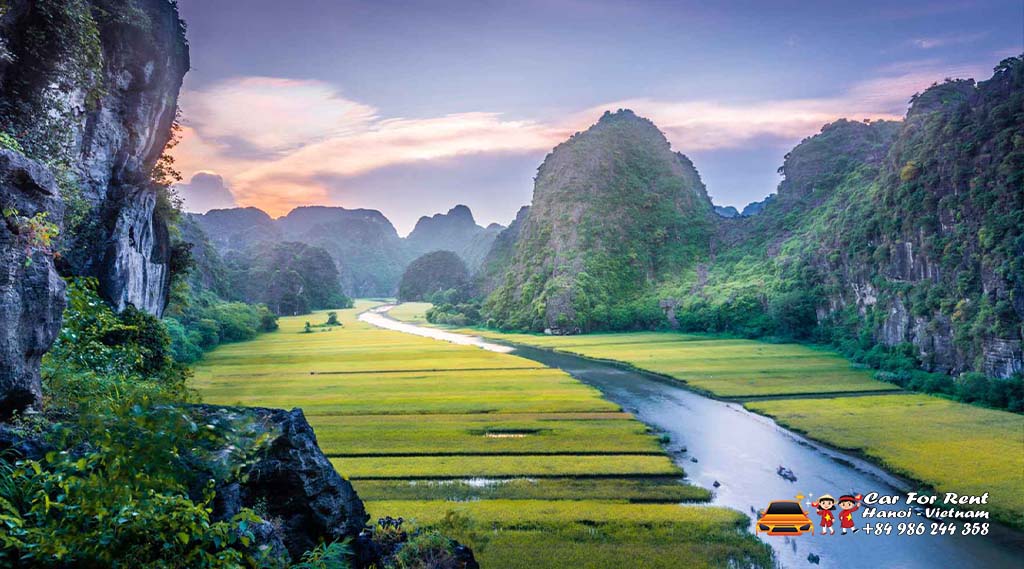 Save time: You can avoid the hassle of finding and waiting for public transportation, which may be crowded, slow, or unreliable. You can also choose the shortest and fastest route to your destination, without having to stop at multiple places along the way.
Save money: You can compare different prices and options online and choose the one that suits your needs and budget. You can also save on fuel costs by choosing a fuel-efficient car type.
Have flexibility: You can choose your own itinerary and schedule, without having to follow a fixed or limited tour program. You can also visit places that are not easily accessible by public transportation, such as the Hoa Lu Ancient Capital or the Mua Cave.
Have comfort: You can enjoy a comfortable and private mode of transportation, particularly during Hanoi's hot and humid seasons. You can also avoid the hassle of carrying your luggage or dealing with crowded and noisy vehicles.
Have safety: You can drive safely with a reliable and well-maintained car that meets the international standards and regulations. You can also avoid the risk of getting scammed or overcharged by dishonest drivers or operators.
How to Find the Best Deals and Services for Car Rental to Tam Coc?
There are many factors that you need to consider when looking for the best deals and services for car rental to Tam Coc, such as:
Car type: You need to choose a car type that matches your group size, luggage needs, and preferences. There are different car types available for rent in Hanoi, such as economy, standard, SUV, people carrier, estate, convertible, or luxury. You can check out some examples and compare prices on platforms like Rentalcars.com1.
Car rental company: You need to choose a reputable and trustworthy car rental company that offers high-quality cars and services. There are many car rental companies operating in Hanoi, such as Avis2, Rental Cars Hanoi3, or Hanoi Journey. You can read reviews and ratings from previous customers to get an idea of their performance and reputation.
Pick-up and drop-off location: You need to choose a convenient and accessible pick-up and drop-off location for your car rental. The most common pick-up location is Noi Bai International Airport (HAN), which is about 45 km away from Tam Coc. However, you can also choose other locations in the city, such as your hotel or a designated point.
Booking method: You need to choose a convenient and secure booking method for your car rental. The most common booking method is online, where you can easily compare different options and prices, make reservations, and pay with cash or credit card. You can use platforms like Grab1, Welcome Pickups2, or Klook3 to book your car rental online or through their apps.
Additional services: You need to check if there are any additional services or fees that are included or excluded in your car rental deal. Some of the common additional services or fees are insurance, fuel, driver, tolls, taxes, surcharges, or extras. You need to read the terms and conditions carefully before confirming your booking.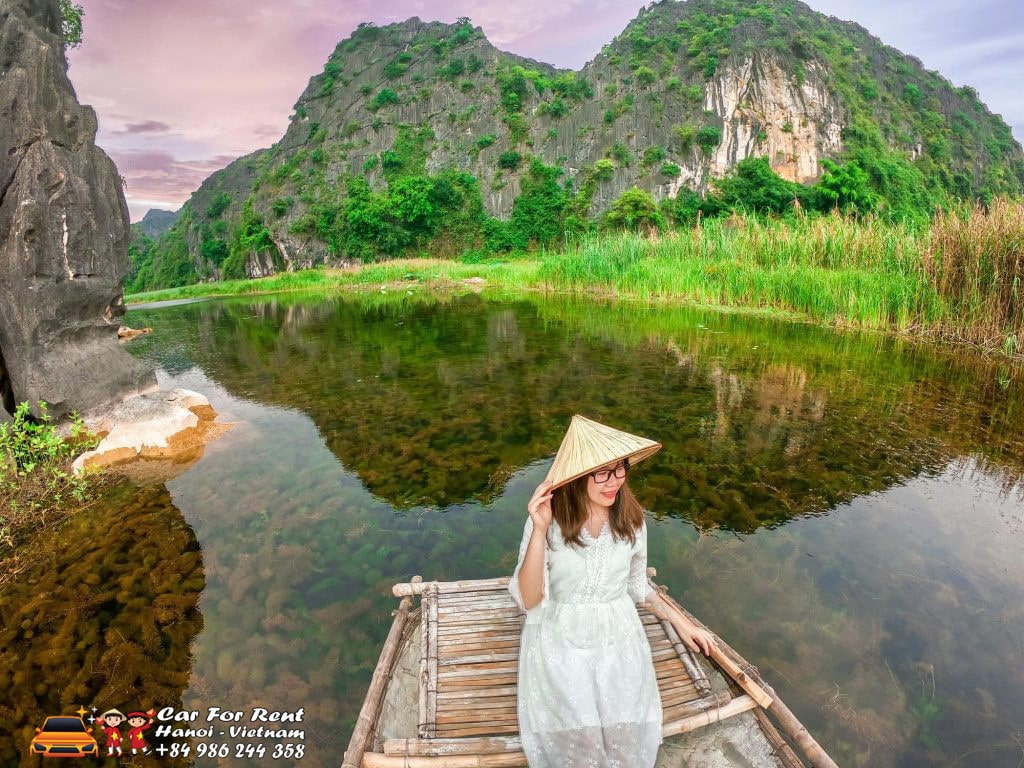 What to Do and See in Tam Coc?
Tam Coc offers a variety of attractions and activities for visitors of all ages and interests. Some of the highlights include:
Boat ride: The main attraction of Tam Coc is the boat ride along the Ngo Dong river that takes you through the three caves: Hang Ca (the first cave), Hang Hai (the second cave), and Hang Ba (the third cave). The boat ride is a relaxing and scenic experience, as you pass by green rice fields, limestone cliffs, lotus ponds, and local villages. The boat ride takes about 2 hours and costs 150,000 VND per person (excluding tip for rower).
Bicycle ride: Another way to enjoy the scenery of Tam Coc is by bicycle ride along the rural roads that surround the area. You can rent a bicycle at the boat station or at some hotels nearby for about 30,000 VND per hour. The bicycle ride allows you to explore the countryside at your own pace and visit some attractions along the way, such as Thai Vi Temple (a temple dedicated to Tran dynasty kings), Bich Dong Pagoda (a pagoda built on a mountain with three levels), or Thung Nham Bird Garden (a bird sanctuary with many species of birds).
Mua Cave: This is a cave located on Mua mountain (also known as Dance mountain), about 5 km from Tam Coc boat station. The cave is not very impressive by itself, but it offers a stunning view of Tam Coc from its peak. To reach the peak, you have to climb about 500 steps that are steep and slippery. The climb is challenging but rewarding, as you can see the panoramic view of Tam Coc, Ngo Dong river, rice fields, and mountains. The entrance fee to Mua Cave is 100, 000 VND per person.
Conclusion: Enjoy Your Visit to Tam Coc with Car Rental
As you can see, renting a car to Tam Coc is one of the best ways to visit this scenic and cultural destination from Hanoi. By renting a car, you can save time, money, have flexibility, comfort, and safety while exploring the natural beauty and history of Tam Coc.
We hope this blog post has helped you learn more about car rental to Tam Coc and how to visit this attraction with ease. If you have any questions or comments, feel free to leave them below. We would love to hear from you!
Contact us:
Car For Rent Hanoi VietNam
https://zalo.me/0986244358