Dai Lai (Hồ Đại Lải) is a tourist attraction located in Ngoc Thanh commune, Phuc Yen district, about 40 km from Hanoi city center. Dai Lai is also known as Flamingo Dai Lai Resort, because of its affiliation with the Flamingo Group, a leading hospitality and real estate company in Vietnam. Dai Lai is a popular destination for visitors who want to enjoy the natural beauty and relax in a luxurious and comfortable environment. In this blog post, we will show you how to rent a car to Dai Lai and explore the best things to do and see in Dai Lai.
Why Rent a Car to Dai Lai?
Renting a car to Dai Lai is one of the best ways to travel from Hanoi to Dai Lai and enjoy your visit at your own pace and convenience. By renting a car, you can:
Save time: You can avoid the hassle of finding and waiting for public transportation, which may be crowded, slow, or unreliable. You can also choose the shortest and fastest route to your destination, without having to stop at multiple places along the way.
Save money: You can compare different prices and options online and choose the one that suits your needs and budget. You can also save on fuel costs by choosing a fuel-efficient car type.
Have flexibility: You can choose your own itinerary and schedule, without having to follow a fixed or limited tour program. You can also visit places that are not easily accessible by public transportation, such as the Tam Dao National Park or the Vinh Phuc Museum.
Have comfort: You can enjoy a comfortable and private mode of transportation, particularly during Hanoi's hot and humid seasons. You can also avoid the hassle of carrying your luggage or dealing with crowded and noisy vehicles.
Have safety: You can drive safely with a reliable and well-maintained car that meets the international standards and regulations. You can also avoid the risk of getting scammed or overcharged by dishonest drivers or operators.
How to Find the Best Deals and Services for Car Rental to Dai Lai?
There are many factors that you need to consider when looking for the best deals and services for car rental to Dai Lai, such as:
What to Do and See in Dai Lai?
Dai Lai offers a variety of attractions and activities for visitors of all ages and interests. Some of the highlights include:
Lake view: The main attraction of Dai Lai is the lake view that covers an area of 525 hectares. The lake is surrounded by green hills, forests, islands, and bridges, creating a refreshing and relaxing landscape. The lake is also home to many aquatic animals and plants, such as fish, ducks, lotus flowers, and water lilies. The lake view is ideal for relaxing, sightseeing, fishing, boating, kayaking, or swimming.
Flamingo Dai Lai Resort: This is a resort complex located on an island in the lake that offers luxurious and comfortable accommodation, food, entertainment, and services for visitors. The resort has various types of villas, bungalows, hotels, restaurants, bars, spas, golf courses, pools, gardens, playgrounds, and events for visitors. The resort also has a unique architecture that blends harmoniously with nature, such as bamboo houses, tree houses, or bird nests. The entrance fee to Flamingo Dai Lai Resort is 200, 000 VND per person.
Forest Park: This is an eco-park located near the lake that offers various games and activities for visitors who love nature and adventure. The park has zip lines, rope courses, rock climbing, cycling, camping, or picnic areas for visitors. The park also has a botanical garden that displays many rare plants and flowers from different regions of Vietnam. The entrance fee to Forest Park is 100, 000 VND per person.
Conclusion: Enjoy Your Visit to Dai Lai with Car Rental
As you can see, renting a car to Dai Lai is one of the best ways to visit this refreshing and relaxing destination from Hanoi. By renting a car, you can save time, money, have flexibility, comfort, and safety while exploring the natural beauty and entertainment of Dai Lai.
We hope this blog post has helped you learn more about car rental to Dai Lai and how to visit this attraction with ease. If you have any questions or comments, feel free to leave them below. We would love to hear from you!
Dai Lai tourist area is located in Phuc Yen City, only about 40km from Hanoi, near the foot of Tam Dao mountain range. This whole area with the center of Dai Lai Lake and the small islands located in the lake, combined with the surrounding natural forest populations, makes Dai Lai an extremely suitable place for resort activities. Vinh Phuc currently wants to bring Dai Lai, Tam Dao and Tay Thien into a tourist complex that can attract tourists to the province at all times of the year.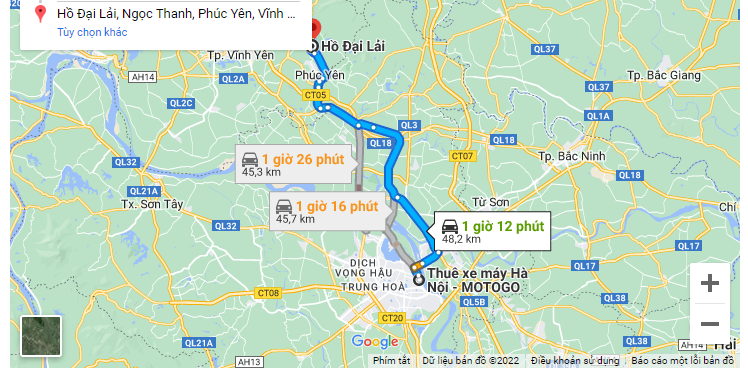 The land of Dai Lai in the past was a barren valley, lying between the Than Lan mountain range on one side and the bare hills running from the foot of Tam Dao mountain. In this valley, the soil is infertile, extremely sour, making it difficult to cultivate. In addition, when the rainy season comes, the water accumulates here but is not kept. After the rain, it flows away, causing the fields to erode even more.
Contact us:
Car For Rent Hanoi VietNam
https://zalo.me/0986244358
Therefore, in 1959, Dai Lai lake was built by Vinh Phuc province. The work was completed in 1963 with the full labor of the army and local people. The lake surface area is up to 5.25 km², with a total capacity of 34.5 million m³, providing water for agricultural production to surrounding districts.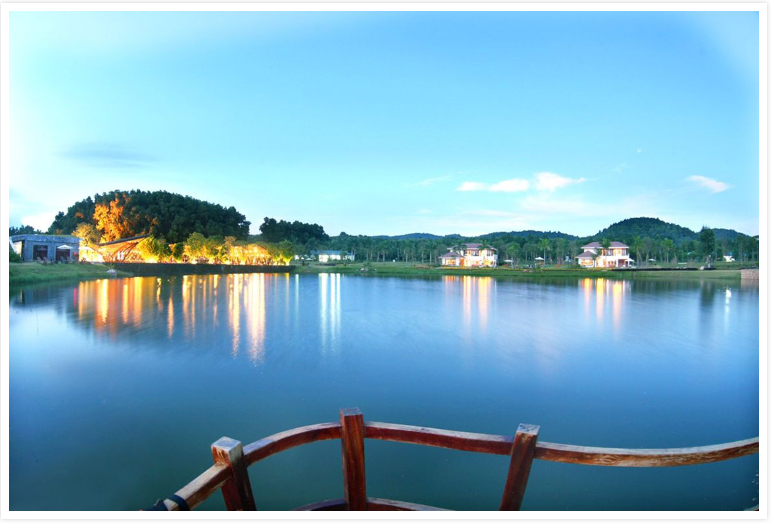 Later, due to the cool climate and beautiful natural landscape, Dai Lai, in addition to providing water, was also put into operation as an ideal tourist destination when coming to Vinh Phuc.
Later, due to the cool climate and beautiful landscape, this place became a tourist attraction attracting tourists to relax (Photo – nguyen tung)
Coming to Dai Lai, in addition to relaxing, visitors can also organize sports activities such as swimming, boating to explore the lake bed. If you are adventurous, you can organize more trekking trips to explore the top of Than Lan mountain or cross Nhe pass to Thai Nguyen side.
When should you travel to Dai Lai?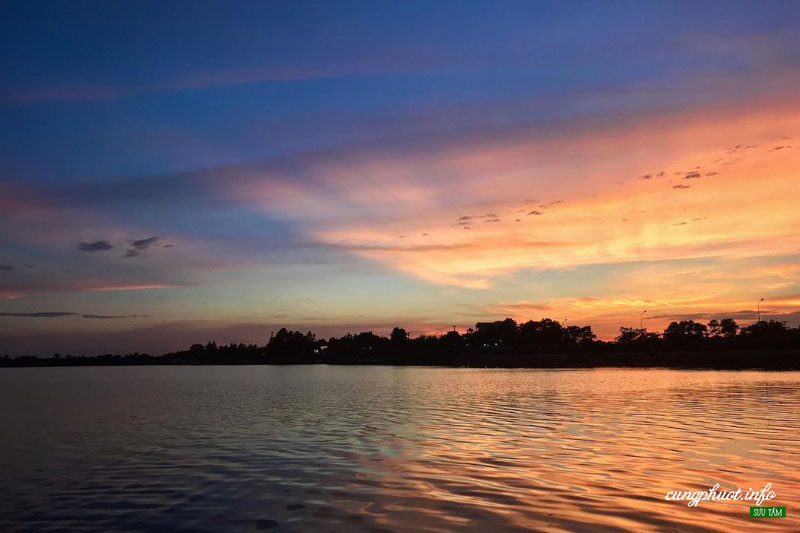 Summer is the ideal time to go to Dai Lai
If you only decide to go to Dai Lai resort, you can go at any free time because this resort is located relatively close to Hanoi, the distance is only a bit farther than going to Noi Bai airport. . If you want to have more interesting experiences, you can consider the following suggestions:
In the summer time, from May to September, the climate in the North is generally quite hot. Want to avoid the virtual noise and dust of the capital, you can visit Dai Lai to rest.
If you want to experience the resort at Flamingo Dai Lai, a luxury resort with a relatively high price, you should come here on weekdays, the room rate will always be much lower than going on the weekend.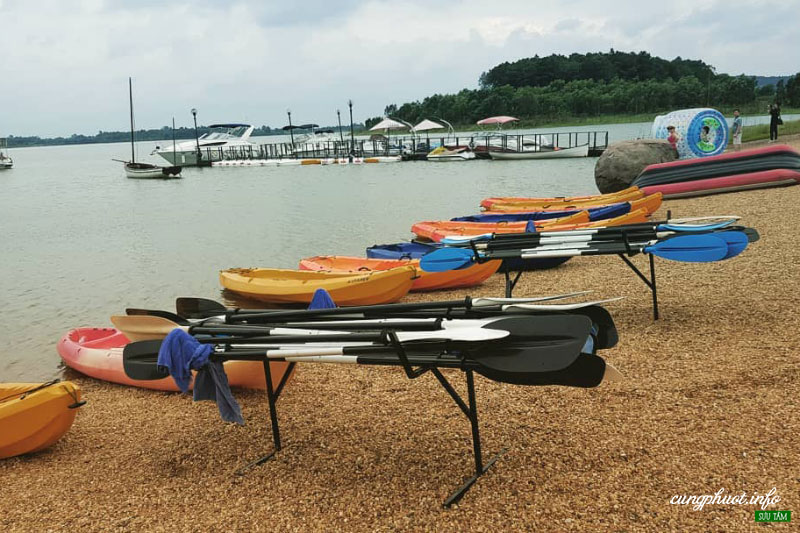 Directions to Dai Lai
Public transport
Bus network in Vinh Phuc has but not much, you need to combine more bus routes of Hanoi
If you don't have a personal vehicle, or simply don't want to go far by yourself, you can use the Hanoi bus routes combined with the Vinh Phuc intra-provincial bus to get to Dai Lai. From Hanoi, you take bus 58, go to Nguyen Trai street of Phuc Yen city, then transfer to bus 08VP to Dai Lai.
Private vehicles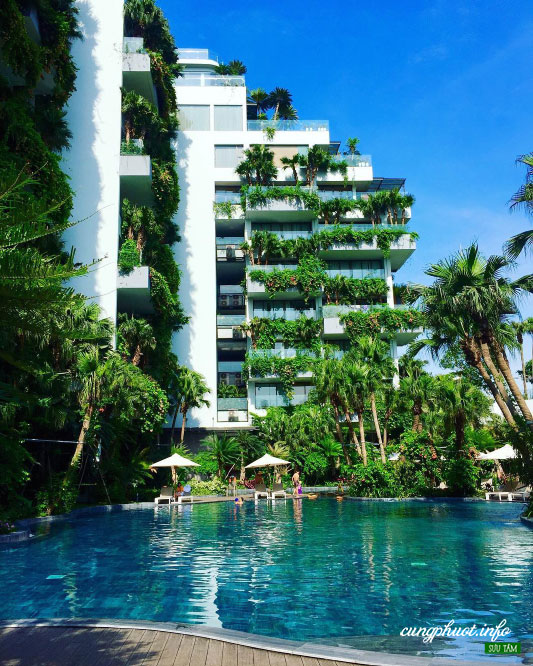 Motorcycle
Motorcycles are often used by young people because of their mobility and the distance is not too far
Not too far from the center of Hanoi (about more than 40km, a little farther than Noi Bai airport), you can completely use a private motorbike to get here. The easiest route is to follow Thang Long Bridge (the lower floor is for motorbikes) or the road along Nhat Tan Bridge to Noi Bai intersection. From here, you continue to follow the direction of Phuc Yen City, go to Nguyen Tat Thanh Street, turn in and follow provincial road 301 to go straight to Dai Lai.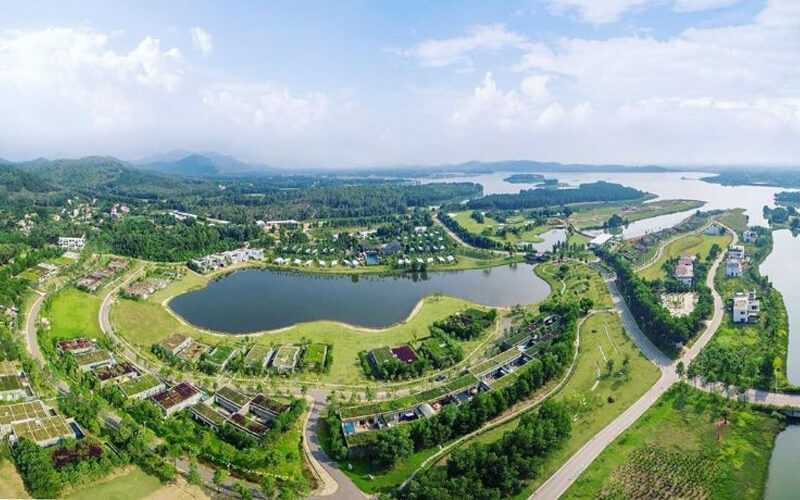 Car
Families with cars can combine their children to camp in the area around the lake
Same with cars, you can follow Thang Long or Nhat Tan bridge depending on the starting position, Nhat Tan road will be beautiful and move faster. To Phuc Yen, you also follow Nguyen Tat Thanh Street and then turn to Provincial Road 301.
Staying in Dai Lai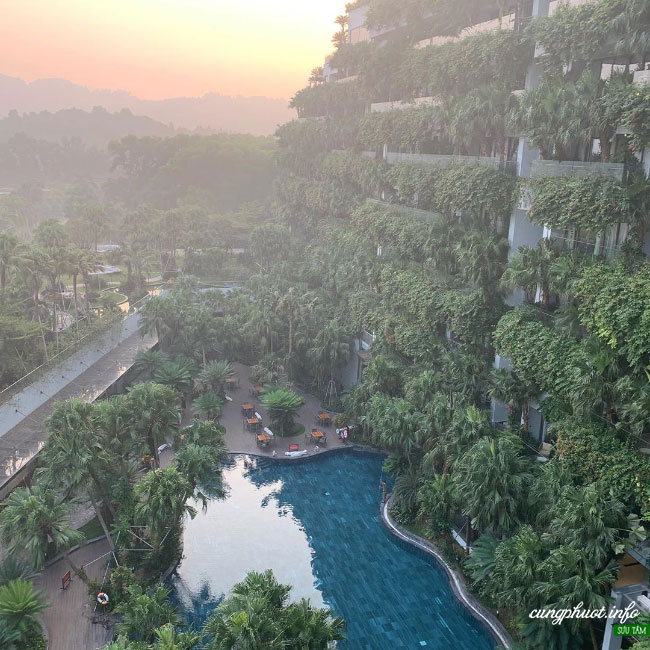 Resort
If possible, Flamingo is the best choice when coming to Dai Lai
Dai Lai currently has Flamingo which is a high-class resort, isolated and has many convenient services attached. If you have conditions, you can choose to stay here, this area has many types from bungalows to hotel rooms, suitable for families or even large groups.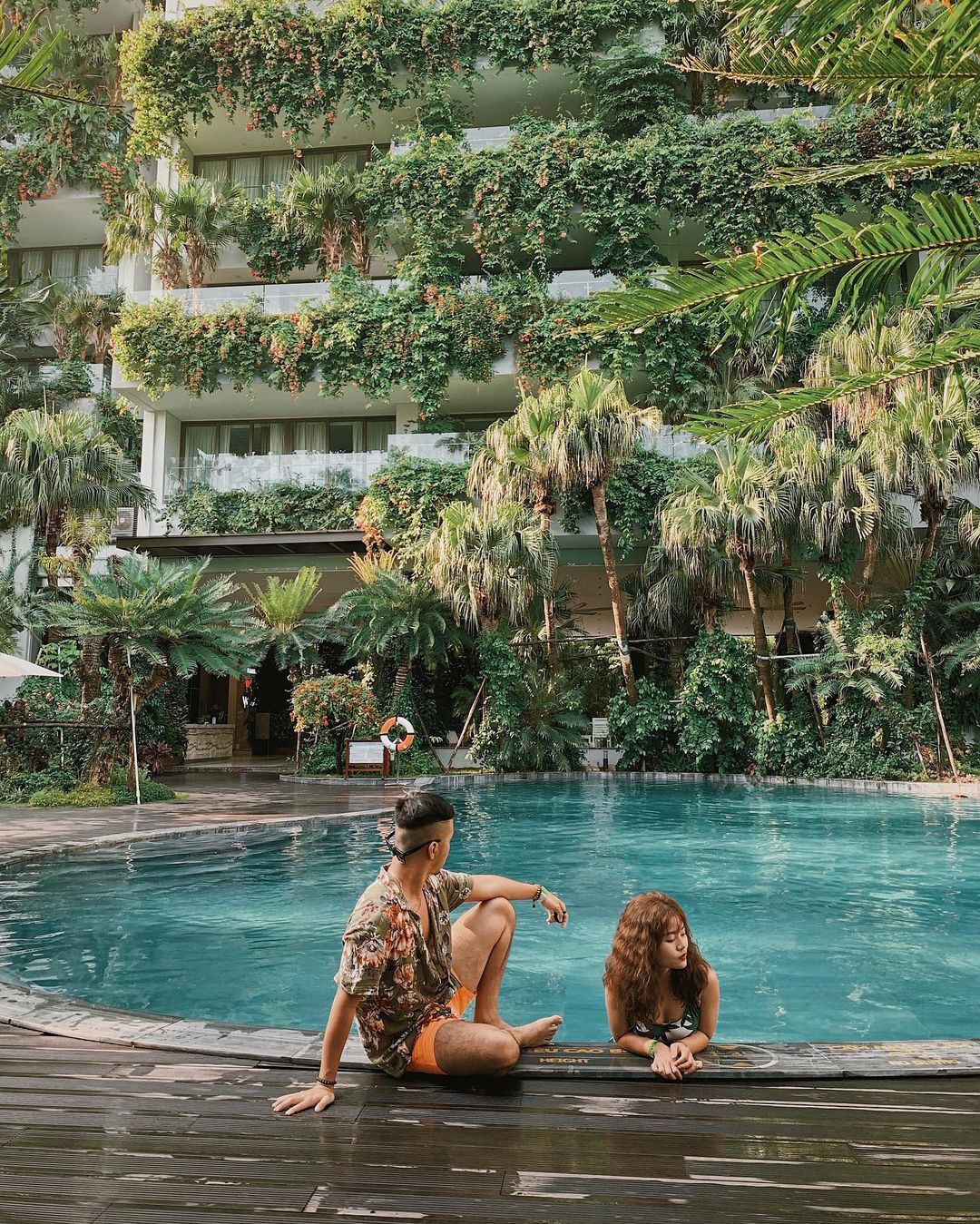 RESORT Flamingo Dai Lai
Address: Ngoc Thanh, Phuc Yen, Vinh Phuc
Phone: 032 902 9669
See special room rates from:
There are also a number of smaller resorts such as Paradise Dai Lai, Dao Ngoc Resort, etc. that you may consider adding if you find the price of rooms in Flamingo too high.
Hotels, motels
There are many motels and hotels around Dai Lai lake area, depending on your individual requirements, you can choose accordingly. You can rest right outside or go deep inside.
See more articles: Hotels and motels in Dai Lai (Updated 12/2022)
Camp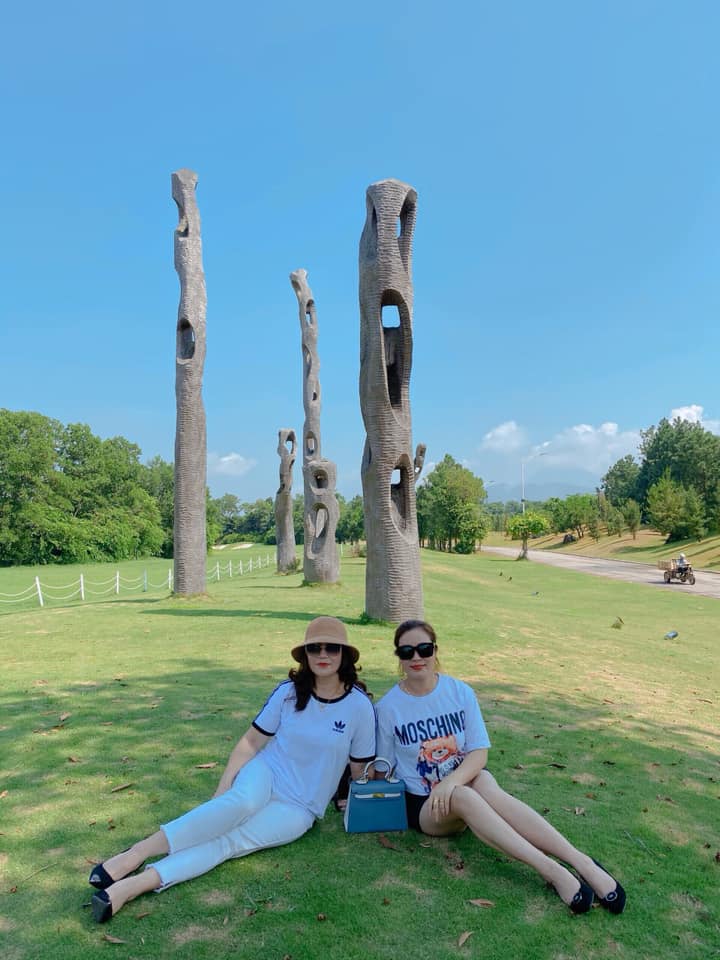 The climate is cool in the evening, so if you have enough furniture, you can set up tents in empty positions around the lake. This activity is most suitable for groups of young people, organizing campfires and eating on the spot.
Some camping coordinates in Dai Lai you can refer to
Coordinates 1: 21.331367, 105.708743 (this place can be close to the lake before, but now the road to the entrance is filled with dirt, you have to park your car opposite and then walk over.
Coordinate 2: 21.335694, 105.709082 (right at the dam, park your car on the side of the abandoned army barracks and then walk in)
Coordinate 3: 21.320247, 105.703929
In addition to Dai Lai, Vinh Phuc also has a lot of other camping sites that you can also refer to to choose as a weekend fun place for your family and friends.
What to play in Dai Lai?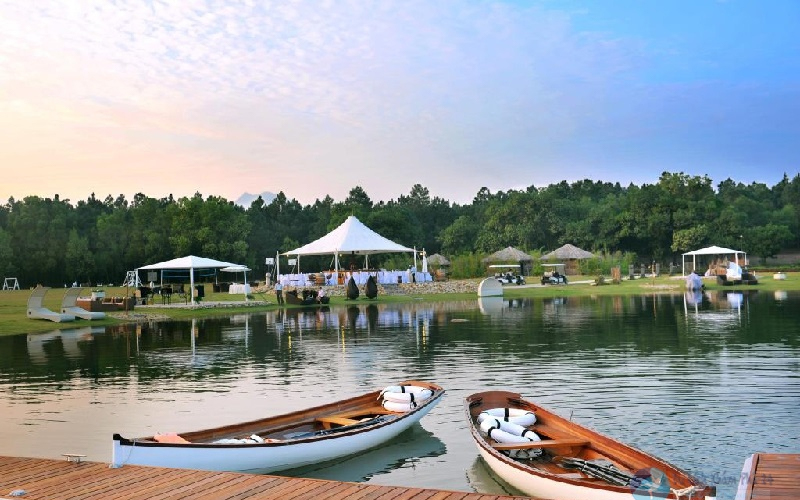 Swimming
Beach on Dai Lai Lake
Some spots near the shore around Dai Lai Lake have small beaches where you can swim comfortably. Being immersed in the cool lake water, you will feel like all the discomfort and heat of the hot summer days will disappear.
Boat ride on the lake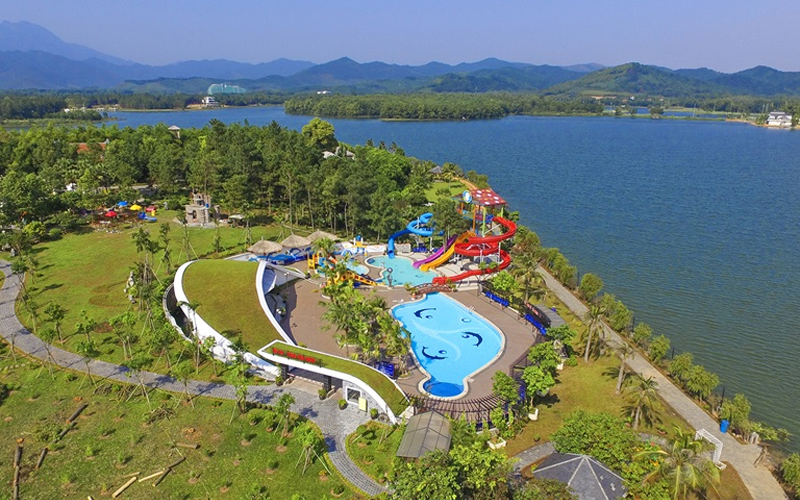 Boats take tourists to visit the lake
Those who love the beauty of the lake can rent a boat to go around the lake to admire the scenery and enjoy the wind. Right in the lakebed area, there are some of these services available for your reference.
Flamingo Resort
Play World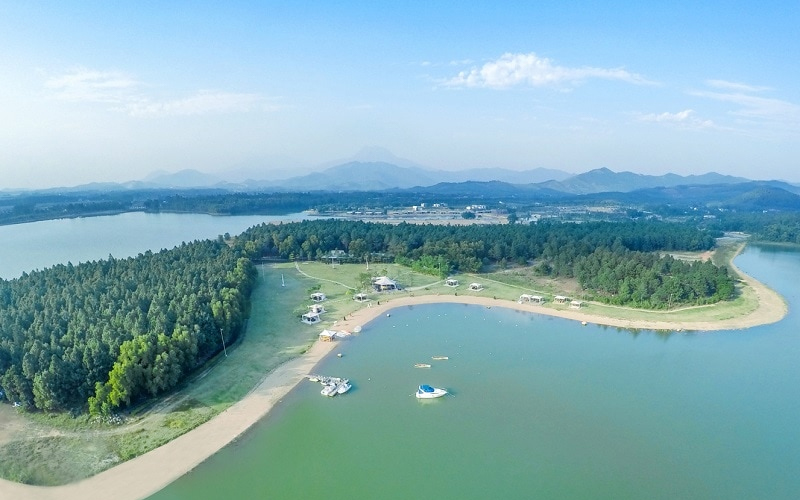 An arcade with classic arcade slot machines including fighting machines, basketball machines, claw machines, simulation racing and more.
Kids Club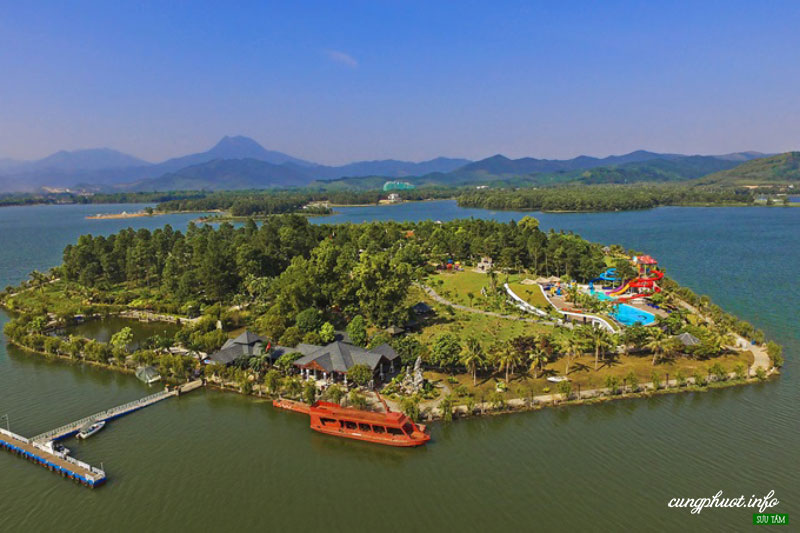 Parents can send their children here for a short period of time
A play area for children, this area also provides babysitting services for parents to have more time to relax.
Wonder Park
Wonder Park Flamingo outdoor play area
Located in a green pine forest space with winding grass hills, with many entertainment activities and a variety of creative thinking games, Wonder Park is an ideal place for children to freely play in nature.
Cinema
Served free of charge to guests staying here, movie showtimes are updated daily at certain time frames, including a variety of movie genres.
Art in the Forest
Art in the Forest is located in the Flamingo Dai Lai population
Art in the Forest is an international art exhibition in the pine forest with a complex of painting studios displaying works from many famous domestic and foreign artists.
Hanging garden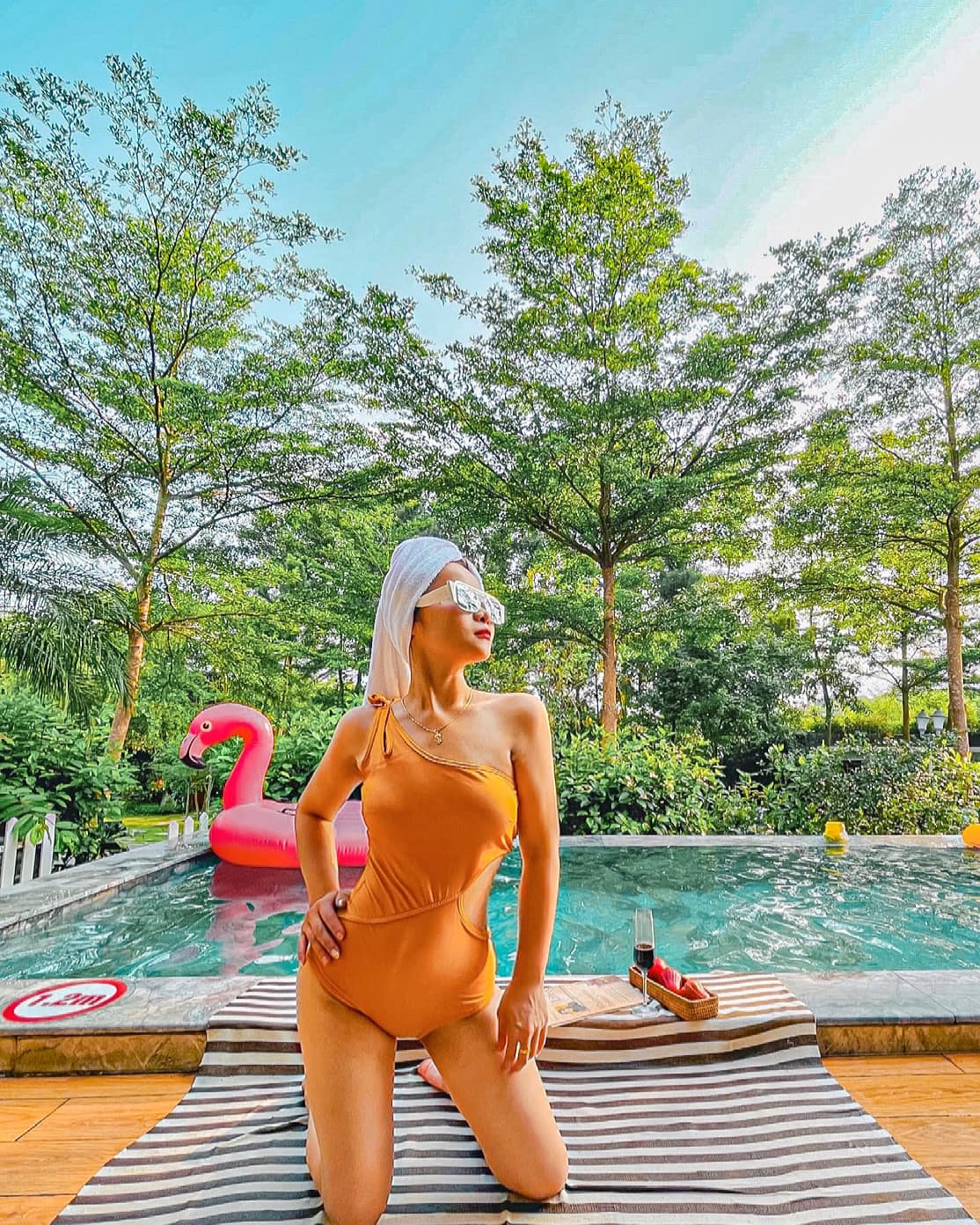 Forest in the sky, Flamingo's Babylonian hanging garden
As a unique highlight, the Hanging Gardens of Babylon has a captivating beauty with an elevated walkway amidst lush greenery, a wooden bridge spanning Koi ponds, and hundreds of miniature hanging gardens that nurture flower varieties. rare.
Sports activities
Flamingo also offers many sports activities for visitors
Flamingo also has many exciting and exciting water sports activities available such as kayaking, water bike, canoe, banana boat, sailing ..
Pearl Islands
Panorama of Ngoc Island
The Pearl Island area is located in the middle of Dai Lai Lake, this is an area managed by the private sector and has built many sightseeing and rest items. If you want to come here, you need to buy boat tickets as well as entrance tickets.
Linh Thong Temple
Linh Thong Pagoda on Pearl Island
This is an old temple that was restored in 2005, the temple with an area of ​​​​more than 1000m² was built according to ancient architecture.
Water park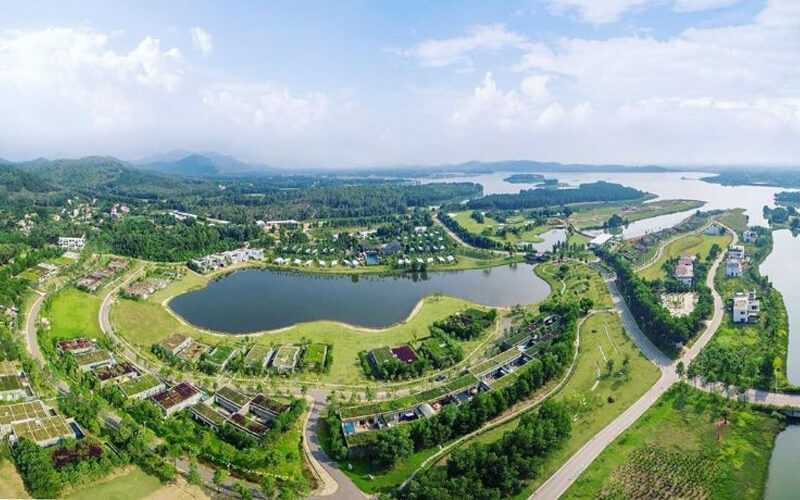 Water park on Pearl Island
A small water park on the island was built to serve visitors to the island, the ticket price to enter the water park is 100k (not included in boat tickets and sightseeing tickets).
What to eat in Dai Lai?
Going during the day, you can bring food to enjoy
As an area for tourists to relax, most resorts and hotels in addition to providing accommodation services also provide catering services. Depending on the purpose of the trip that you choose accordingly, if you organize a day camping, you can prepare food to grill in the style of BBQ, cold food. If you take a break at Flamingo, you can experience the dishes in the restaurant systems
Dai Lai travel schedule
Hanoi – Dai Lai 1 day
In the morning, depart from Hanoi, about 1 hour to move you will reach the Dai Lai lake area. If you go in a large group, you can bring tents, tables and chairs of all kinds to organize camping by the lake, remember to find locations with lots of trees to stay cool.
If you like to visit Flamingo, you can buy a ticket here, usually the ticket will also include an accompanying lunch, tram service to travel around the resort, visit a few places here.
Similarly with Pearl Island, you can also buy boat tickets + sightseeing tickets to have fun on the island. There is also a water park on the island, quite suitable for family groups with many children.
If you do not like to visit these places to visit, you can freely swim on the lake bed (in the areas that have been safe), get a bicycle around the lake or kayak.
In the evening from Dai Lai, pack up your things, return to Hanoi to end the trip.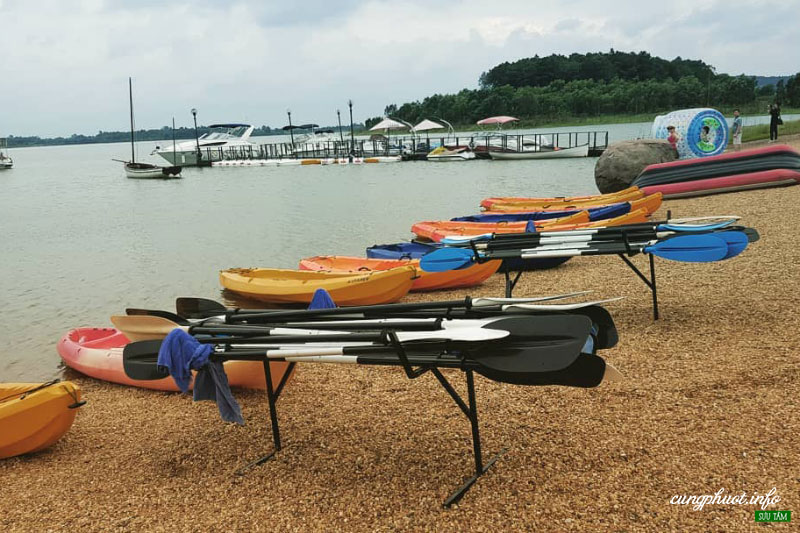 Hanoi – Dai Lai – Tam Dao
The schedule is for those of you who are far away, having lost your way to Vinh Phuc, you can always visit the tourist attractions here.
Day 1: Hanoi – Tay Thien – Tam Dao
From Hanoi, you depart early to Tay Thien, this area will have Tay Thien Pagoda and Truc Lam Tay Thien Monastery. About 2 hours from the departure time, you will go to Tay Thien Pagoda, buy cable car tickets to go up. on the top for fast. If you have a lot of time, you can climb the mountain to go to the temple, bring food to eat along the way for convenience.
Afternoon down the mountain, from Tay Thien pagoda, turn back and go up to visit Truc Lam Tay Thien Zen Monastery. The time here is about 1 hour is relatively comfortable for those who just visit, if you are interested in Buddhism and Zen Buddhism, you can spend more time to learn. From Tay Thien, go straight to Tam Island check-in and rest. Evening wandering around town enjoying barbecue in the cold weather of Tam Dao.
Day 2: Tam Dao – Dai Lai
Get up in the morning for breakfast, visit Wind Shop or go to Heaven's Gate to enjoy a cup of coffee. Continue to visit Silver Waterfall, Church, if you like to exercise, you can climb the TV Tower, Ba Chua Thuong Ngan Temple. Lunch, check out of the hotel and then depart for Dai Lai.
Spend the night in Dai Lai, if possible, go to Flamingo, otherwise you can choose other hotels and motels located along the lake.
Evening walk, rest
Day 3: Dai Lai – Hanoi
On this day, you can relax and enjoy swimming and boating activities around Dai Lai Lake. At noon, check out and move back to the capital, ending the trip.
Find on Google:
Dai Lai travel experience 2022
Dai Lai tourism in December
What's beautiful in Dai Lai in December?
review Dai Lai
Guide to Dai Lai self-sufficient
What to eat in Dai Lai?
Traveling Dai Lai by motorbike
Where is Dai Lai?
the way to Dai Lai
What to do in Dai Lai?
What is the best season to go to Dai Lai?
Dai Lai beautiful photography location
Dai Lai cheap homestay