Lan Ha Bay Cat Ba is a familiar name on the island tourism map of Vietnam. Let's discover the magnificent beauty but no less poetic through the experience of going to Lan Ha Bay, Cat Ba.
Lan Ha Bay Cat Ba is loved by its wild and peaceful beauty, with many large and small islands with different shapes and beauties. Visiting Lan Ha Bay, visitors will experience the feeling of being immersed in nature, discovering the daily life of local fishermen.
1. Where is Lan Ha Bay in Cat Ba?
Where is Lan Ha Bay located? Lan Ha Bay Cat Ba has an area of ​​more than 7000m2 with many large and small islands, located to the east of Cat Ba Island and south of Ha Long Bay. With the wild and lively beauty of unexploited beaches, Lan Ha Bay is an attractive destination for tourists. Visiting Lan Ha Bay, visitors will be able to participate in fun activities on the sea, explore the life of fishing villages here.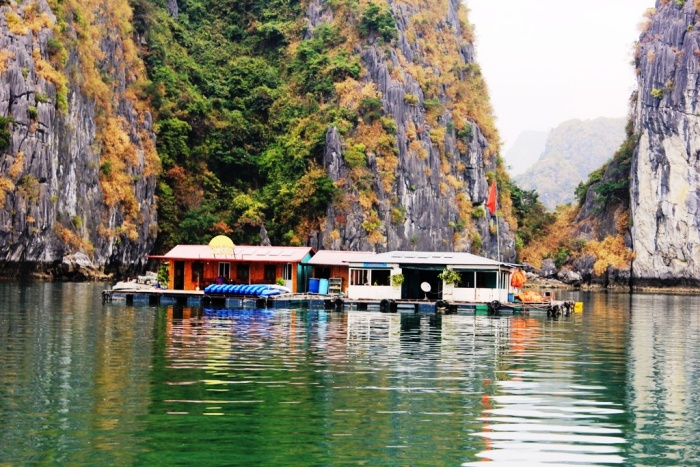 >>> See more: 19 beautiful Hai Phong tourist attractions that must be visited once
Contact us:
Car For Rent Hanoi VietNam
https://zalo.me/0986244358
2. What is the best season to travel to Lan Ha Bay, Cat Ba?
Lan Ha Bay Cat Ba is located in the northern tourist area, so the weather here is full of four seasons: spring, summer, autumn and winter. Each season has its own beauty, very poetic and charming. Depending on your interests and schedule, you can arrange a time to visit this place.
Usually, from April to June is in the summer, the sea is calm, the weather is sunny, windy, the sky is very clear, suitable for sailing to explore the bay. From about September onwards, it is not in the tourist season, so Lan Ha Bay is quite peaceful, suitable for those who like to relax in a quiet space. At this time, you can also participate in sea activities such as sailing, surfing, climbing…
>>> See more: Review of the full set of self-sufficient travel tips for Hai Phong
3. Means of transportation to Lan Ha Bay
3.1. Moving to Hai Phong
Bus: There are many bus trips from Hanoi to Lan Ha Bay, Cat Ba, running continuously for 15-20 minutes/trip. You can easily catch the bus at Nuoc Ngam bus station or Gia Lam bus station. You should choose a bus with the destination of Binh wharf to easily catch the train to Cat Ba.
Airplane: Most domestic airlines operate flights to Cat Bi airport (Hai Phong). You can choose the airline according to your preference.
Train: If you have more time and want to enjoy the scenery along the way, you can choose the train to go to Lan Ha Bay, Cat Ba. Every day there will be 4 trains to Hai Phong, traveling time is about 2.5h – 3h.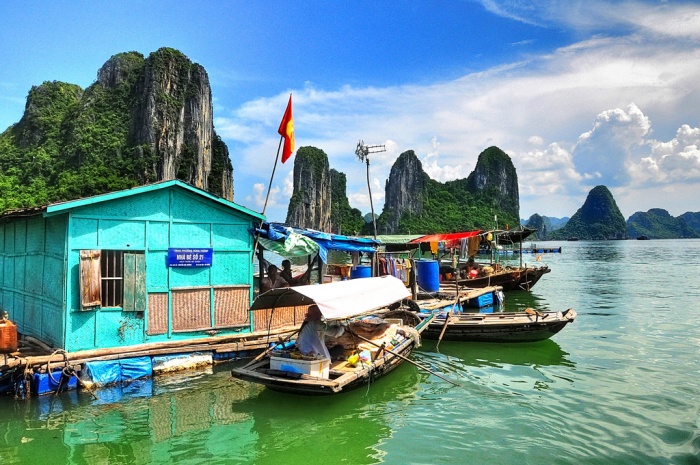 >>> See more: Fall in love with 7 famous beautiful Hai Phong beaches
3.2. Moving to Cat Ba
Take the boat to the bay: You can buy tickets directly to the bay at Binh wharf. Be prepared to stay healthy so you don't get seasick. Ticket price to Lan Ha Bay Cat Ba is only about 30,000 VND/person.
Speedboat + car to the bay: The boat moves on the river to the last station of Cai Vieng, then you take a bus to the center of the island. With this move, you will be less prone to seasickness.
>>> Book a 5-star Sheraton Hai Phong hotel to have a complete trip
4. Places to visit and play in Lan Ha Bay, Cat Ba
4.1. Vist location
Lan Ha Bay Floating Market
If you have ever traveled to the West, you will probably imagine the floating market of the people here. However, Lan Ha Bay floating market has a smaller scale, mainly by fishermen looking after fish and shrimp rafts. You can visit this place to buy seafood as a gift.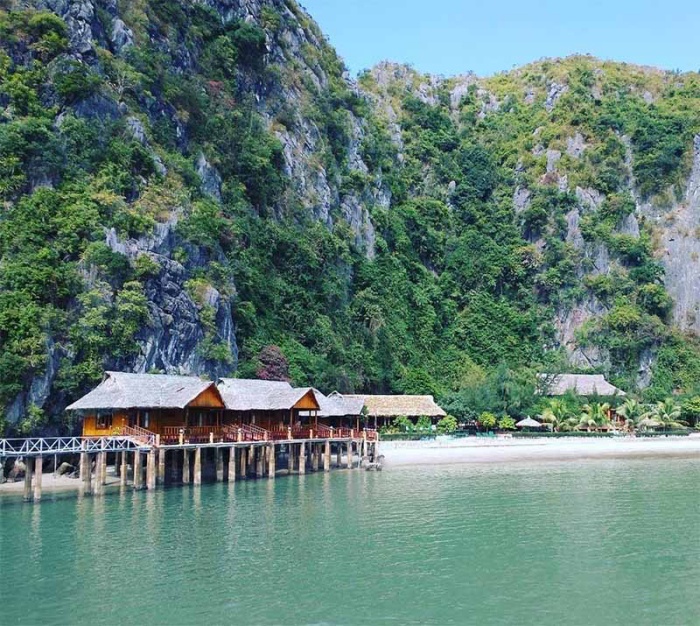 Cua Van fishing village
Cua Van fishing village is nestled on the Van Gia limestone mountain, in the calm area. This place attracts visitors by the colorful floating houses bobbing in the middle of the bay. The life of the fishermen is extremely peaceful with more than 300 families engaged in fishing. With charming and poetic beauty, Cua Van fishing village on Lan Ha Bay, Cat Ba, is in the list of 16 most beautiful ancient villages in the world.
>>> See more: Hai Phong's great love – Discover the beautiful fairyland like a dream, whenever you go, you will remember
Nam Cat Island
Nam Cat Island is about 15 minutes by boat from Lan Ha Bay. The island is full of wildness, serenity and charm. It has 3 wooden stilt houses and 6 bamboo cottages, allowing you to fully enjoy the fresh air from the sea nature.
Monkey Island
Monkey Island, also known as Cat Dua Island, is because there are many pineapple trees on the island. However, the island is now called Monkey Island because it is home to more than 20 monkeys brought by the rangers of Cat Ba National Park.
They are quite friendly and often enjoy playing with visitors. Monkey Island has 2 beaches: Cat Dua 1 beach and Cat Dua 2 beach. The sea water here is extremely clear, suitable for swimming, kayaking…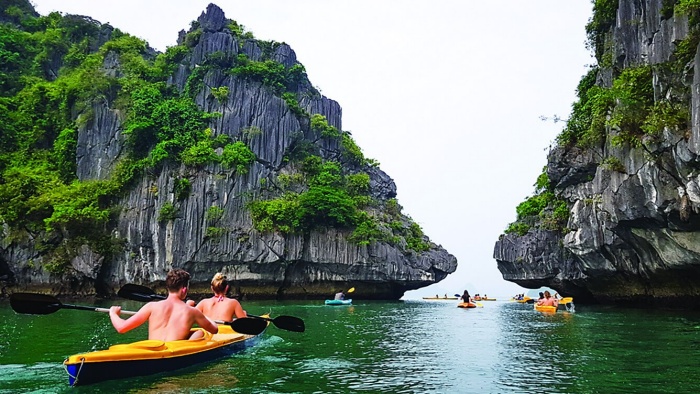 Luon Cave
Luon Cave on Lan Ha Bay, Cat Ba is a famous tourist destination with extremely beautiful check-in photos. Try kayaking to visit the beautiful scenery around Luon cave, you will be satisfied. Luon Cave is known as the masterpiece on the bay.
Van Boi Beach
Van Boi beach is located along the protruding part of a mountain range, where many tourists often come here to explore boating, swimming… Van Boi beach has beautiful natural scenery with beautiful beaches. fine white sand stretches, clear blue sea water, quiet and peaceful space.
>>> See more: DETAILED handbook on Cat Ba Hai Phong tourism SUCCESSFULLY
4.2. Fun activities
Swimming and watching corals
With many beautiful beaches outside Lan Ha Cat Ba Bay, visitors can enjoy swimming and immersing in the cool sea water. The diving spots here have a depth of 4-5m, which is very suitable for watching corals and other sea creatures.
Kayaking
You should buy a kayaking tour, the cruise ships will take you to the calm and beautiful seas for you to both do sports and enjoy the scenery here. Usually, tourists often go kayaking in the area of ​​Dark Cave, Bright Cave, Me Kong Cave…
Climb the mountain
Climbing on Lan Ha Bay is currently a favorite sport activity of many tourists, especially foreign tourists. There are many climbing spots around Cat Ba area with craggy cliffs, attractive to those who like adventure and the feeling of conquest.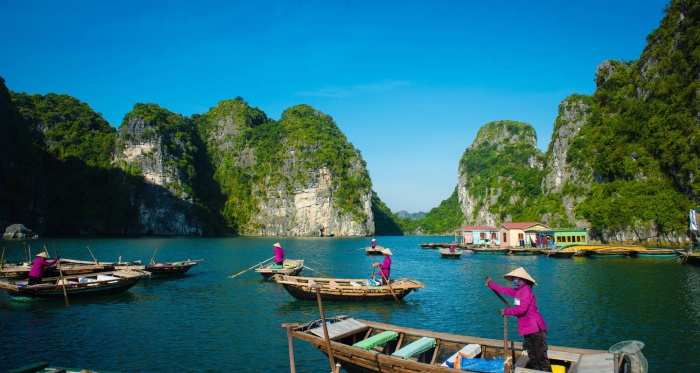 >>> Book a 5-star hotel in Sheraton Hai Phong
5. What are some delicious dishes in Ha Cat Ba orchid bay?
Not only the beautiful natural landscape, but also many delicious dishes, typical of the sea. Coming to this place, you can take the Lan Ha Bay Cat Ba tour 3 days 2 nights or the Lan Ha Bay Cat Ba tour 2 days 1 night to enjoy all the specialties here.
Comedian
Comei can be found in many other places, but the most delicious must be in Lan Ha Bay, Cat Ba. Tu comei are processed into grilled, grilled, grilled, and cooked porridge. Tu comei meat is fragrant, crispy, and chewy. Because it is very delicious and rare seafood, the price of comedians here is quite high, from 50,000 – 70,000 VND/head.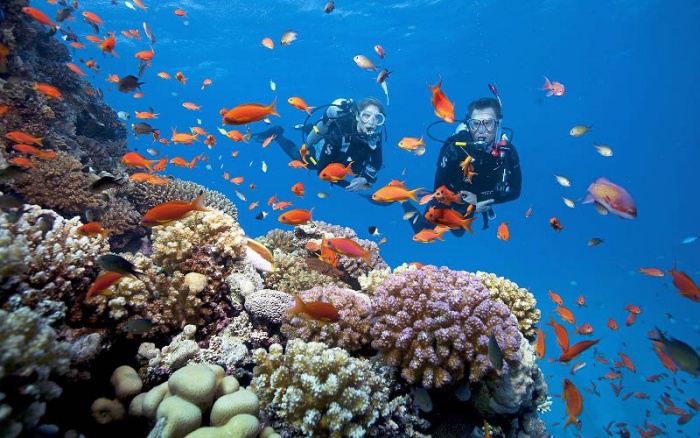 Surface is a very popular dish on Lan Ha Bay, Cat Ba. Any restaurant will have this dish. The surface is processed in a variety of ways, steamed, grilled, roasted with salt, porridge… The surface here is big, mushy and glossy, when steamed, it retains its aroma, freshness, and does not break.
Oysters
The best cockles are grilled on a charcoal fire and enjoyed on the spot. This is a very nutritious and delicious dish. The most important thing is to choose really fresh blood cockles, which can be served with cold beer after baking. Blood cockles are also processed into dishes such as fried blood cockles with tamarind, blood cockle porridge …
Vinh Lan haha
Grilled cockles are a very delicious dish on Lan Ha Bay, Cat Ba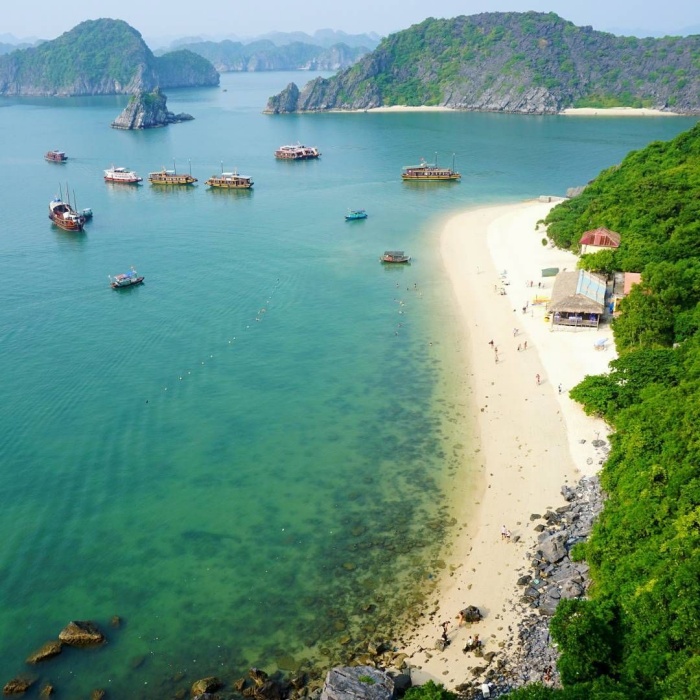 Green Crab
Green crabs are often processed into steamed dishes, tamarind sauce… Green crabs live in salt water with a depth of 4-10m. Crab meat is very delicious, cool and nutritious, steamed with a little beer and crushed lemongrass to bring out the smell. Cooked crabs, separating the meat and dipping with chili sauce or seafood dipping sauce are great.
Vinh Lan haha
Steamed green crab (Source: Pinterest)
>>> Book a room at the 5-star Sheraton Hai Phong hotel to enjoy a meaningful trip
Table Mai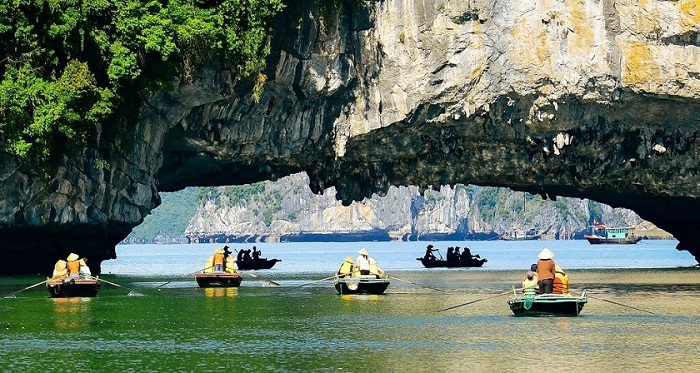 Seafood is also very popular in Lan Ha Bay, Cat Ba because the meat has the effect of reducing back pain and making bones strong. The most delicious way to cook apricot is to bake onion fat. The meat of the table apricot is cut into small pieces, placed in the shell and grilled under charcoal.
Vinh Lan haha
Grilled apricot with onion fat has many nutritional values ​​(Source: Collectibles)
Octopus
Octopus in Lan Ha Bay, Cat Ba is very delicious, nutritious and can be processed into many dishes. You can try a variety of dishes made from octopus here. But the best is the steamed and grilled octopus.
>> See more: Take a look at 11 delicious seafood restaurants in Hai Phong, once you eat it, you will love it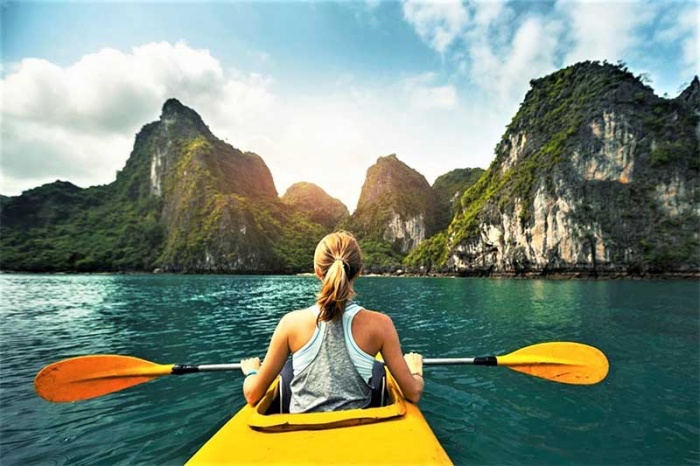 6. Which hotel to stay at when traveling to Lan Ha Bay?
Lan Ha Bay Cat Ba is a famous tourist area, so many visitors before coming here have wondered which Lan Ha Bay hotel should they choose or what are the good hotels in Cat Ba? And among many Lan Ha Bay resorts, Sheraton Hai Phong and Melia Vinpearl Hai Phong Rivera lead the list of the most favorite hotels in this place because of their beautiful location and many rare and hard-to-find facilities.
6.1. Sheraton Hai Phong
Address: Vinhomes Imperia Urban Area, Hanoi Street, Thuong Ly, Hong Bang, Hai Phong City
Phone number:
Melia Vinpearl Hai Phong Rivera has a system of luxurious rooms with many amenities
Melia Vinpearl Hai Phong Rivera is located in a beautiful location, easy to connect with other famous tourist attractions. The hotel includes a system of rooms with classic and modern designs that are very typical and outstanding.
Melia Vinpearl Hai Phong Rivera features a luxurious four-season outdoor swimming pool. A system of modern restaurants and bars, a multi-function complex of gym – spa – yoga, amusement parks, entertainment, and shopping next door help visitors have a quality vacation.
>>> Book now Melia Vinpearl Hai Phong Rivera room to receive unexpected offers
Lan Ha Bay Cat Ba not only attracts tourists by its beautiful natural scenery, charming beaches, but also by the unique dishes found only here. Hopefully, the detailed review information above has given you more love for this land as well as thickened the Lan Ha Bay Cat Ba travel guide for the upcoming trip.