tourist attractions near Hanoi Traveling near Hanoi is a hot trend recently, refer to the ideal places to play near Hanoi in the article to plan and have the best experiences.
27 interesting and attractive tourist attractions near Hanoi introduced in the article are the ideal destinations for you when you want to "escape" from the hustle and bustle of the capital to enjoy a relaxing and exciting feeling. , renewable energy after hard working and studying days.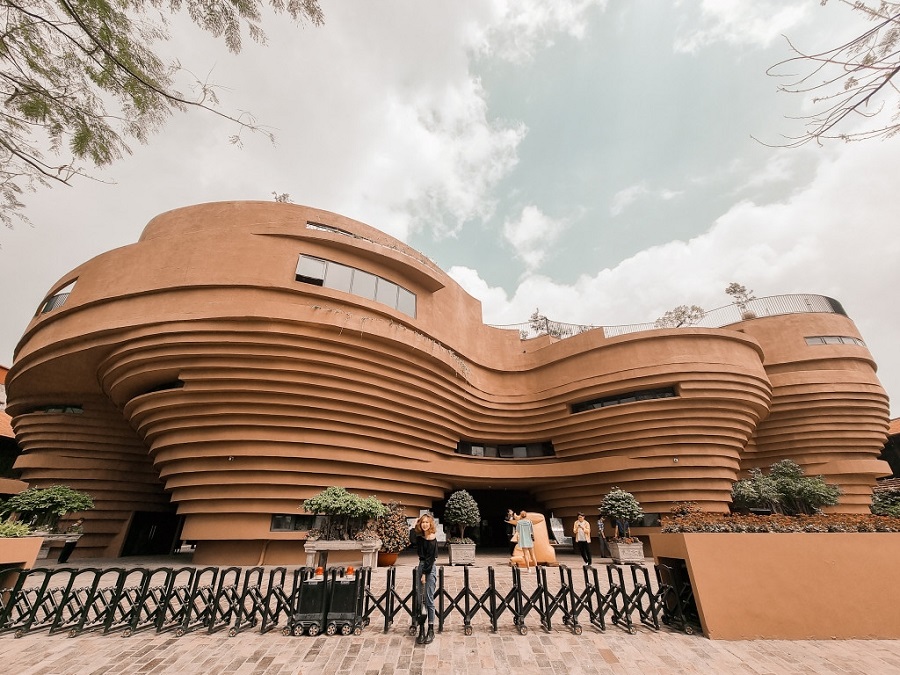 1. Summary of tourist attractions near Hanoi under 20km
1.1. Bat Trang Pottery Village – A tourist destination near Hanoi in 1 day
Location: Bat Trang pottery village on the banks of the Red River, in Gia Lam district, more than 10km from the center of Hanoi
Bat Trang pottery village is a place to preserve the traditional culture of Vietnam's ceramics village, is the oldest and most famous pottery village, specializing in the production of various types and designs of ceramics, owning many Unique and ancient architecture.
Contact us:
Car For Rent Hanoi VietNam
https://zalo.me/0986244358
1.2. Bao Son Paradise – An attractive tourist area near Hanoi
Location: Bao Son Paradise is located at km5+200, Le Trong Tan Street, An Khanh Commune, Hoai Duc District, Hanoi.
Bao Son Paradise is an extremely hot entertainment complex that attracts a large number of young people and families with small children. This tourist spot near Hanoi is only about 10km from the center of Hanoi, with many interesting games and entertainment areas such as: Aquarium, water park, world wonder movie set, Safari area…
1.3. Yen So Park – A 1-day travel destination near Hanoi that is both near and good
Location: Located on National Highway 1A, Hoang Liet Ward, Hoang Mai District, Hanoi
Yen So Park is a tourist attraction near Hanoi that stands out with fresh and cool air, suitable for picnics and camping, is one of the largest green parks in Hanoi, with an area of ​​up to 232 hectares. , has a cool green lake, many trees and large lawns. In addition to attractive green space, Yen So Park is also attracted by unique architectural works.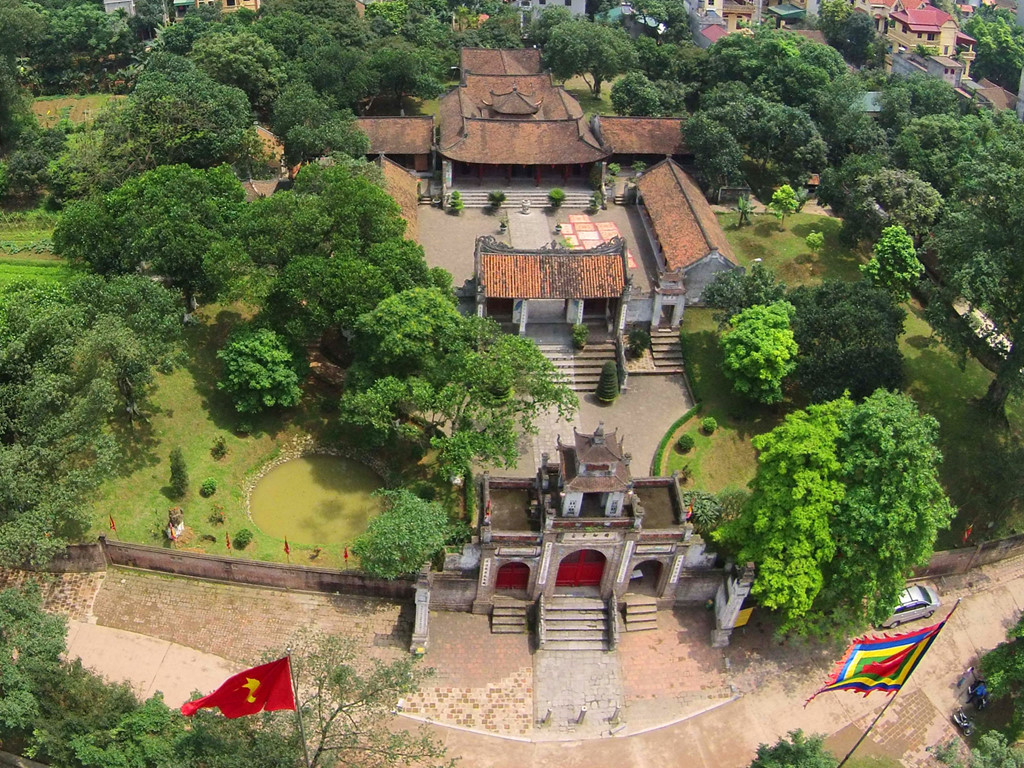 2. Tourist places near Hanoi with less than 40km in a day
2.1. Co Loa Citadel – A tourist destination near Hanoi in 1 day
Location: Co Loa citadel in Co Loa commune, Dong Anh district, Hanoi
Co Loa citadel is the largest and most unique ancient citadel of scale and structure among the ancient citadel in Vietnam, is one of 21 national tourist sites recognized. In Co Loa citadel, there are many relics such as: Thuong Temple, Ngoc Well, Co Loa Dinh … are the relics of the capital of Au Lac country from the 3rd century (BC) and the state of King Ngo Quyen in the 10th century (AD). ).
2.2. Ham Lon Mountain – Check-in point near Hanoi is popular with young people
Location: Ham Lon Mountain is located in Nam Son commune, Soc Son district, Hanoi
Ham Lon Mountain is less than 40km from the center of Hanoi city, is the highest mountain in Hanoi, has beautiful scenery, charming, pleasant climate, diverse terrain, is an ideal destination for many tourists to come. Explore and camp.
2.3. Tram Mountain – A tourist destination near Hanoi with beautiful nature that "touches people's hearts"
Location: Tram Mountain is located in Phung Chau Commune, Chuong My District, Hanoi.
Tram Mountain, also known as Tu Tram Son, owns a poetic, majestic space, beautiful natural landscape, is a tourist destination near Hanoi that is ideal for tourists to experience camping and mountain climbing. exciting.
3. Weekend tourist destinations near Hanoi under 60km
3.1. Xoi village valley – 1 day resort tour near Hanoi
Location: Ban Xoi valley belongs to Ba Vi tourist complex, Chong hamlet, Yen Bai commune, Ba Vi district, Hanoi
The valley of Xoi village owns a poetic, unspoiled landscape, featuring many lovely stilt houses, ethnic style, many interesting games to attract visitors, full of attractive tourism types. for a relaxing weekend trip for you and your family.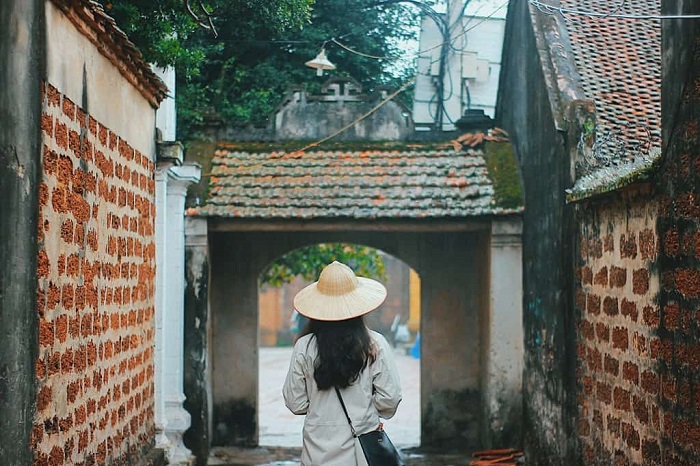 3.2. Duong Lam Ancient Village – A cheap tourist destination near Hanoi
Location: Duong Lam ancient village in Son Tay town, 44 km west of Hanoi center.
Duong Lam ancient village is a long-standing ancient village, preserving many unique cultural features of the ancient village of the North, along with special images such as water wharf, village communal house, pagoda and temple… 2006 National Cultural History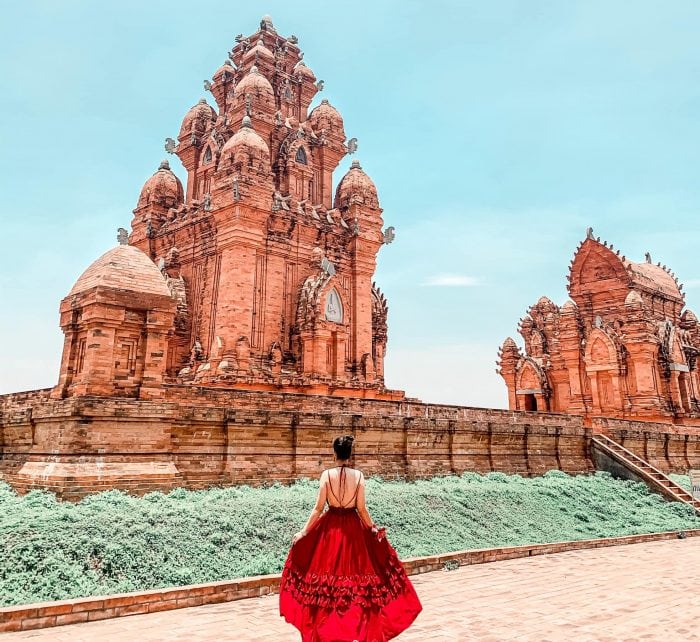 3.3. Dong Mo tourist area – In the top tourist areas near Hanoi worth experiencing the most
Location: Dong Mo tourist area is located in the territory of Son Tay town and Ba Vi district, Hanoi.
Dong Mo tourist area belongs to the tourist complex of Vietnam's Ethnic Culture Village, is an attractive tourist destination with poetic scenery, a 500-hectare freshwater lake, small islands, amusement parks and resorts. interesting nutrition.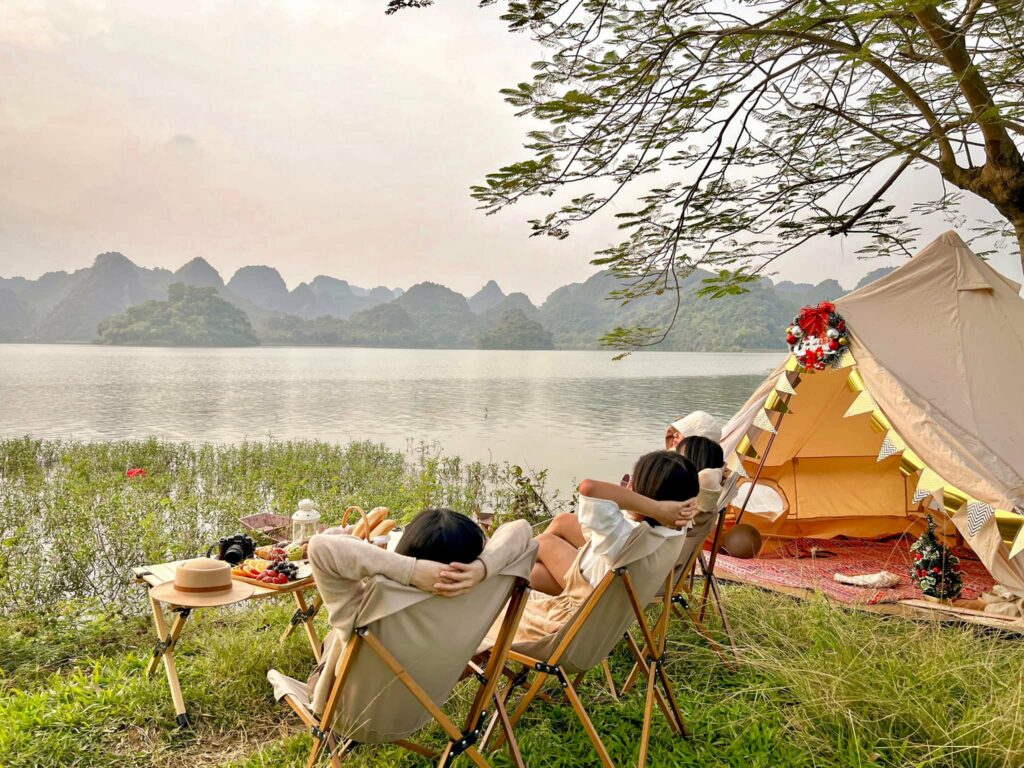 3.4. Quan Son Lake – An ideal tourist destination near Hanoi for 1 day
Location: Quan Son Lake is located in the territory of Thuong Lam, Tuy Lai and Hong Son communes of My Duc district, Kim Boi district, Hoa Binh province.
Quan Son Lake is an attractive tourist destination, suitable for a 1-day trip around Hanoi, possessing beautiful scenery, mountains, lakes, and rich vegetation. This place is likened to "Ha Long on land" of Hanoi.
3.5. Dai Lai – An eco-tourism destination near Hanoi attracts "moving" people
Location: Dai Lai Lake is located in the areas of Ngoc Thanh commune and Dong Xuan ward, Phuc Yen city, Vinh Phuc
Dai Lai Lake owns a poetic landscape of mountains and rivers, with magnificent Tam Dao lake ranges, green forests, valleys … the scenery is as beautiful as ink paintings, in addition to the fresh air, and many more. Unique birds attract tourists.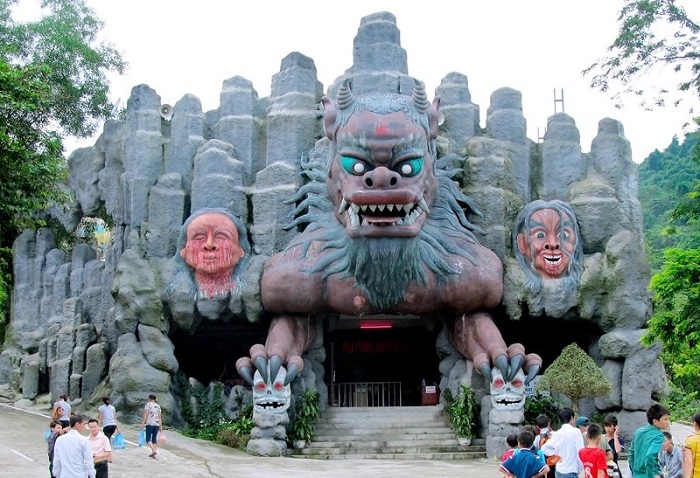 3.6. Tien Sa Lake – A place to travel near Hanoi for families
Location: Tien Sa Lake is located at the foot of Tan mountain, Tan Linh commune, Ba Vi district, Hanoi
Tien Sa Lake is a tourist destination near Hanoi with green and airy space, a diverse and interesting ecosystem, many attractive entertainment spots, which can help you get rid of all the worries and fatigue of life in this place. urban, immersed in the beautiful nature.
3.7. Cultural Village of Vietnam's Ethnic Groups – A tourist destination near Hanoi during the day
Location: Belonging to Dong Mo tourist area, Son Tay town, Hanoi
The Vietnamese Ethnic Culture Village is built on a small hill with many lakes, recreating the daily life of ethnic groups throughout Vietnam. guest.
3.8. Ban Rom eco-tourism area – Travel near Hanoi for family or group of friends
Location: Located in Quang Tien commune, Soc Son district, Hanoi
Ban Rom is an attractive eco-tourism area with many extremely hot check-in locations such as Thuong Uyen garden, fairy forest, livestock farm, playing sand, pine forest, camping area, and the area for organizing events. outdoor activities…
3.9. Khoang Xanh Suoi Tien tourist area
Location: Located in the area of ​​Ba Vi mountain range in Van Hoa commune, Ba Vi district, Hanoi
Khoang Xanh Suoi Tien tourist area has rich natural scenery, a cool climate all year round, a diverse ecological structure, a full range of streams, waterfalls, alternating forests, diverse entertainment angles, is an interesting and attractive resort paradise.
3.10. Where to travel near Hanoi? Huong pagoda
Location: Perfume Pagoda is located on the banks of the Day River, Huong Son Commune, My Duc District, Hanoi
Perfume Pagoda owns a beautiful, unspoiled natural scenery, peaceful, has a fresh climate, many landscapes such as Huong Tich cave, Yen stream, lotus lagoon… and is an attractive and interesting spiritual tourist destination. located right near Hanoi, it only takes about 2 hours to move.
4. Tourist attractions near Hanoi under 80km
4.1. Ba Vi Hanoi Tourism
Ba Vi is a tourist destination near Hanoi that is ideal for many tourists who want to immerse themselves in nature, here the fresh air, beautiful natural scenery, there are many attractive destinations, attracting a large number of tourists to come here. check-in.
4.1.1. Ba Vi pine forest – One of the weekend attractions near Hanoi
Ba Vi pine forest has a majestic, green natural landscape of plants and flowers, fresh space, very suitable for organizing meaningful camping trips.
4.1.2. Bang Ta natural forest – An attractive picnic spot near Hanoi
Bang Ta natural forest has 387 different types of plants belonging to 252 genera and 94 families, there are 13 mammal species belonging to 7 families, 4 typical orders such as mice, birds, bats, squirrels, butterflies, many precious tree species. as old as lime, lily…
4.1.3. Thien Son Suoi Nga – An interesting eco-tourism area near Hanoi
The climate in Thien Son Suoi Nga is famously cool, here there are many trees and water to help dispel the heat of summer, mountains, rivers, nature combine harmoniously… visitors come to check-in.
4.1.4. Church of Ba Vi
Ba Vi church has bold French architecture, beautiful ancient and mysterious style, attracting many young people to check-in virtual living. Although the church has been worn down by time bombs, it still retains its basic shape.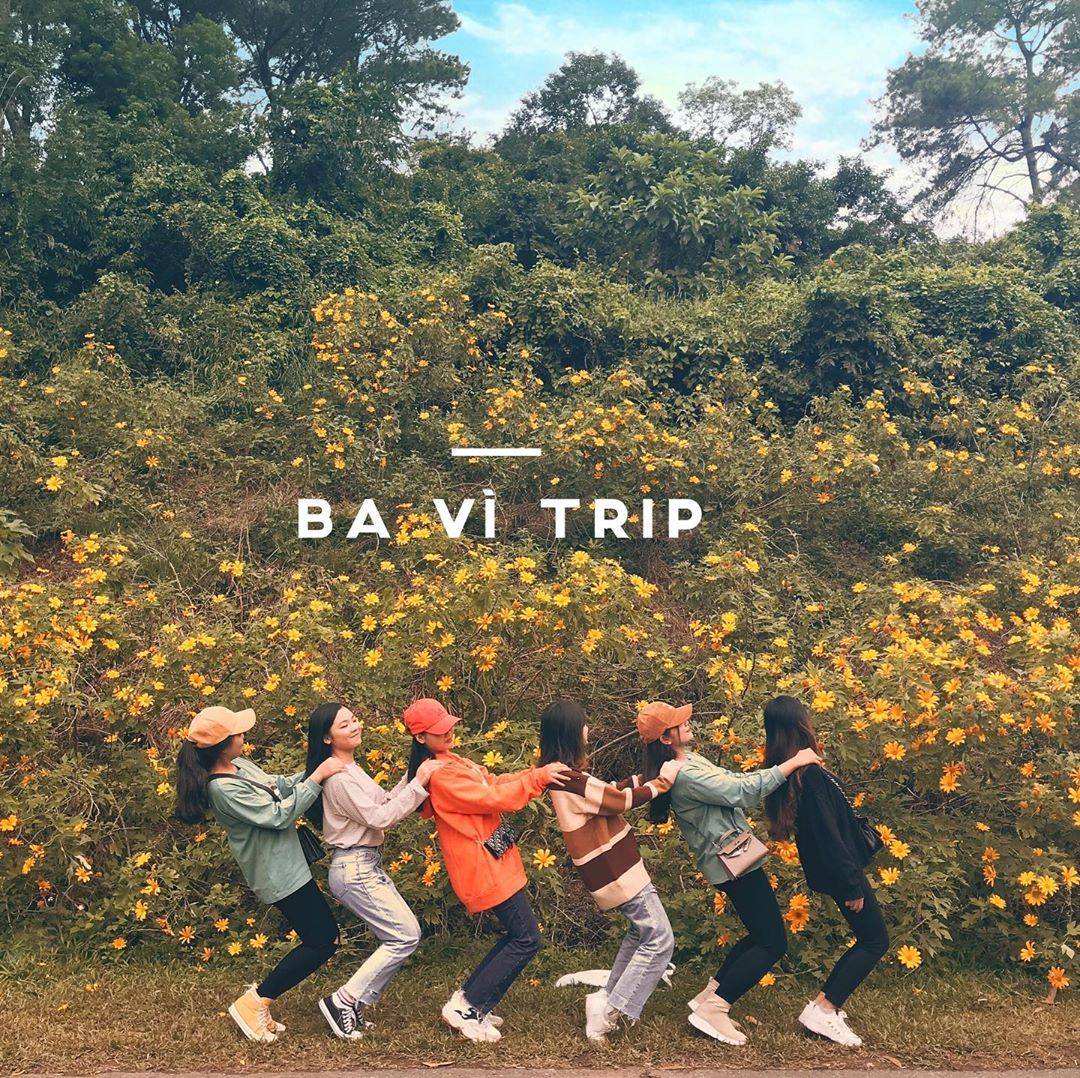 4.1.5. Ba Vi National Park – A tourist destination near Hanoi for students
Ba Vi National Park is a famous tourist destination near Hanoi with diverse ecosystems, beautiful scenery, cool climate, and is an ideal destination for tourists who love fresh and unspoiled space. majesty of nature.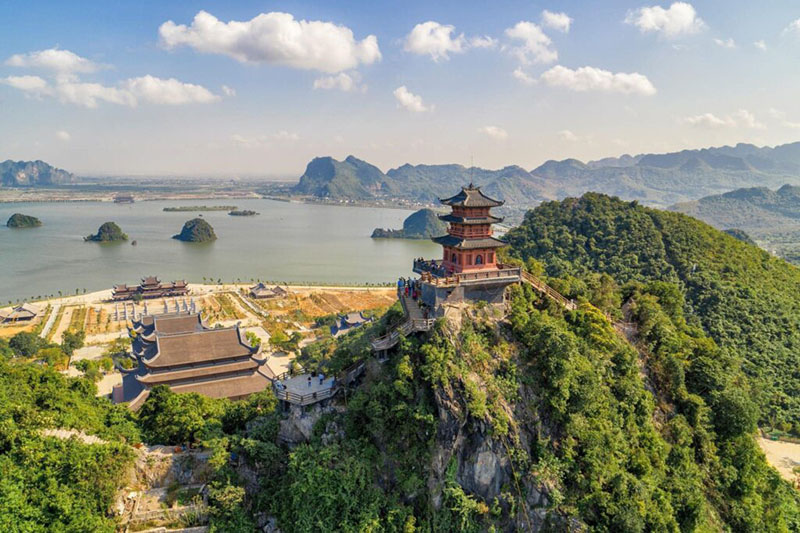 4.2. Tam Chuc – Ba Sao tourist area (Ha Nam)
Tam Chuc Ha Nam tourist area is an attractive spiritual tourist destination, attracting many tourists to visit in recent years. Tam Chuc tourist area complex in Ba Sao, Kim Bang, Ha Nam possesses many diverse and unique landscapes such as: Tam Quan Gate, Pillar Kinh Garden, Tam Chuc Pagoda… interesting break.
5. Refer to some other picnic destinations near Hanoi over 80km
5.1. Do Son – A beach resort near Hanoi
Do Son is a famous beach tourist destination with beautiful beaches, stretching, beautiful scenery, attracting many tourists to visit every year. Traveling to Do Son, visitors are free to swim, have fun, participate in interesting festivals, enjoy delicious and delicious seafood dishes.
5.2. Lake Nui Coc Thai Nguyen
Thai Nguyen Coc Mountain Lake owns a beautiful and charming landscape, associated with the famous legend of Chang Coc and Cong, this is a vast artificial lake. The beauty of Nui Coc lake is compared by many tourists as a miniature "Ha Long Bay" of Thai Nguyen.
5.3. Thung Nai Hoa Binh – Very chill resort near Hanoi
Thung Nai Hoa Binh is a famous resort destination with beautiful natural landscapes, enchanting emerald green lakes, white waterfalls, impressive blur space.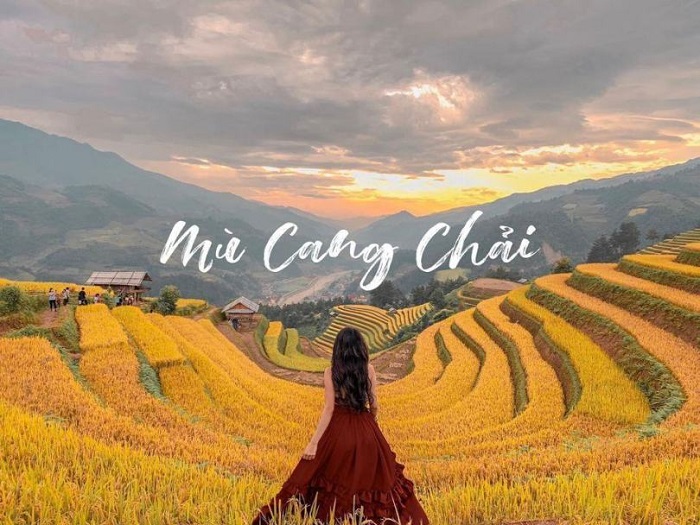 5.4. Mu Cang Chai
Mu Cang Chai is an impressive destination, always favored by tourists, likened to a fingerprint of heaven and earth, possessing a peaceful beauty that attracts, especially, the ripe rice season and the pouring water season of Mu Cang Chai make visitors most impressive.
5.5. Lang Son – 2 days 1 night tourist destination near Hanoi
Lang Son is a tourist destination near Hanoi that stands out with many scenic spots, impressive cultural relics, charming landscapes, busy shopping areas, etc. can bring visitors a lot of experiences. Interesting, unique experience. Lang Son tourism has many famous places to visit such as: Tam Thanh pagoda – cave, Phai Ve mountain, Mau Son peak, Mac Dynasty citadel, Ai Chi Lang, Ky Cung temple, Tan Thanh border gate, Huu Nghi border gate…
If you are planning to travel to Lang Son and are wondering about finding a convenient place to stay, with many convenient and classy resort services, you can refer to booking at Vinpearl Hotel Lang Son at No. 2 Tran Hung Dao, Chi Lang ward, Lang Son city. Vinpearl Hotel Lang Son is an ideal resort for visitors to fully enjoy their vacation, convenient to travel to visit the most famous Lang Son tourist attractions.
5.6. Ha Long Bay – One of the most attractive tourist destinations near Hanoi
Ha Long Bay owns thousands of magnificent islands, considered as masterpieces of creation, recognized by UNESCO many times as a natural heritage of the world, is a famous tourist destination near attractive Hanoi. Many prominent attractions on Ha Long Bay such as: Trong Mai island, Mam Xoi island, Lu Huong island… make visitors "drunk like a smoke".
In addition to discovering attractive destinations in Ha Long Bay, experience from travel believers says that a Ha Long trip will be more complete and "chill" than ever when combining a unique resort, class at Vinpearl Resort & Spa Ha Long, a 5-star luxury resort hotel area with 4 sides facing the sea for spectacular scenery and views.
To escape the hustle and bustle of Hanoi, admire the beautiful natural scenery, enjoy the fresh and cool air for relaxing and interesting weekends with 27 tourist attractions near Hanoi Very chill, complete with all kinds of eco-tourism, resort, fun and entertainment in the article, hope you will have fun trips and many interesting experiences.